With 6 cats who exhibit varying degrees of "badness," we struggle with keeping them from exploring anything new, like say a tree with shiny, dangling objects on it. To keep the cats away from the Christmas tree, my husband put a can of SSSCAT Spray near the base. Here is the product description: "Keep your cat off of furniture, countertops, and plants. SSSCAT Spray senses your cat within 1 meter, then emits a startling, deterring spray. Contains odorless, non-staining gas, harmless to pets and people. Approximately 120 sprays per can."
It worked beautifully for keeping cats away from the Christmas tree. When they got close, it made a sharp "pssst" noise with a burst of the harmless mystery gas and the cats would scatter. The downside was that I set it off three times that evening and my blood-pressure was through the roof. But, fortunately we found that it worked even if it wasn't turned on. When I saw Benjamin, the biggest nibshit, walking toward the tree, I made a "PSSST" sound and he took off running :). From that moment on he has given the tree a wide berth.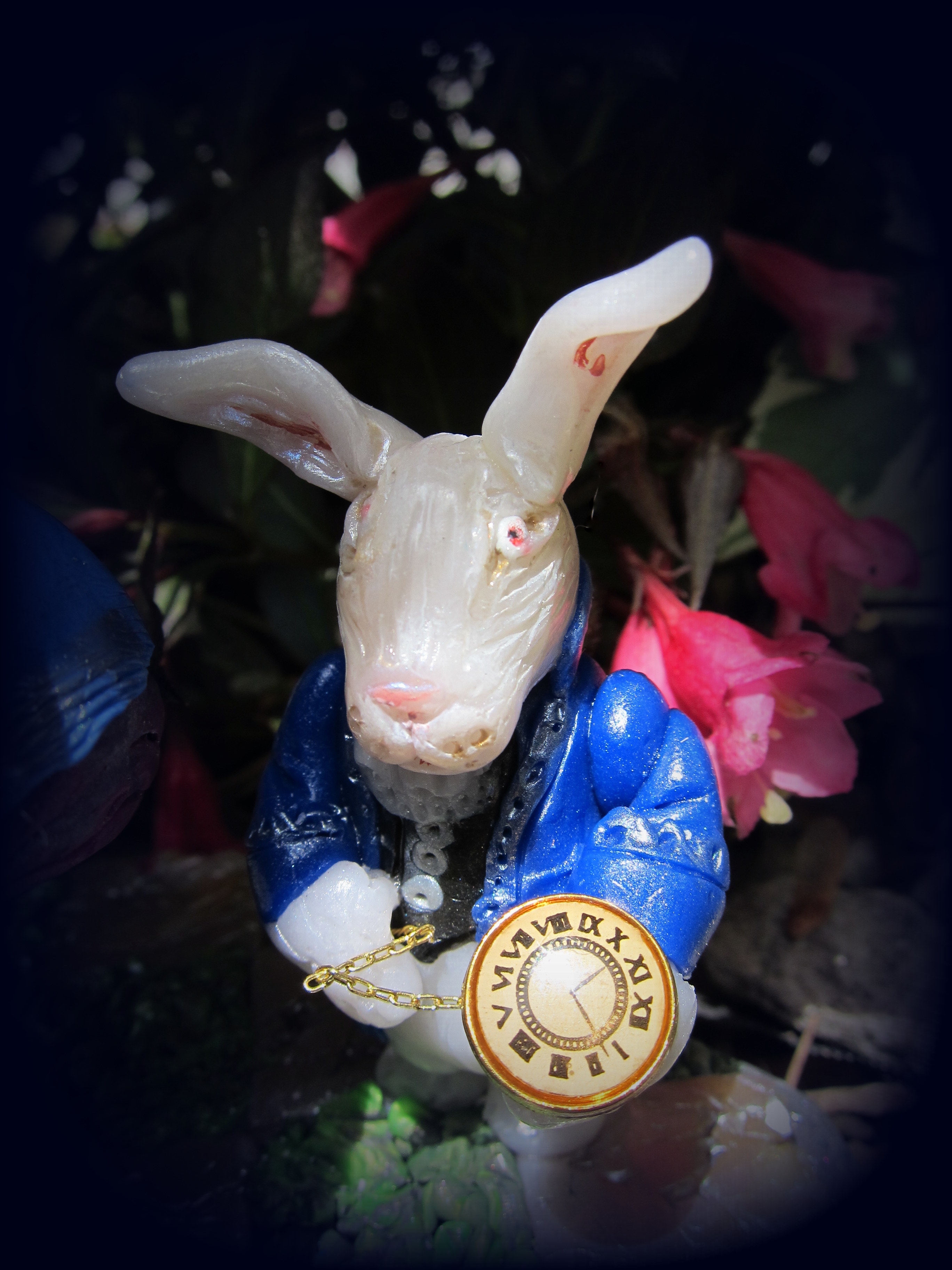 I'll admit it. I spend a lot of time watching television. Yes, there is an element of vegging, but I find that many of my "guilty pleasures" stimulate my creative process. Lately I've been enjoying the ABC show Once Upon a Time in Wonderland. Anything "Alice" makes me feel like I have to create something from her world.
How is that a nonsensical tale from 1865 can still resonate with us?  Why, more than 100 years later, are we still fascinated by the rabbit hole? How can something from that time period feel so  "modern"? And why do we need to create our own versions of Wonderland?
For me, Wonderland is about the exploration of  contrast. It is sumptuous beauty juxtaposed with dark ugliness. A Wonderland theme lets me create something magical when my soul feels happy or something unsettling when I feel like I've lost my footing. Or, if I so choose, I can bask in the light and hide in the dark at the same time.  That is a lot of creative material to explore!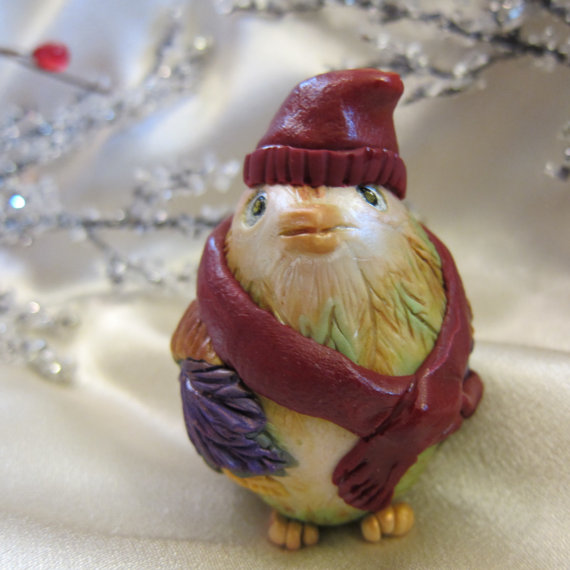 This colorful winter bird is toasty warm in his knit red cap. I sculpted him from polymer clay over a hollow egg shell. The egg is from a well-educated chicken near my home that was raised by a university dean who moonlights as a farmer. If you love him,  you can head over to my store and take him home to be your very own Christmas chickie.  https://www.etsy.com/shop/YoungCreative
Vote and Win!
He's also appearing this week as my entry in the PCAGOE December Challenge.
Three lucky winners will be selected in a drawing of all non-member voters and will be able to choose a prize offered by our member shops sponsoring this month's challenge.
http://polymerclayartists.blogspot.com/2013/11/december-challenge-beads-baubles-and.html