Larkin Modjeska Bottles
These two lovely vintage Larkin bottles from the company's Modjeska line belonged to my great-grandmother, Ethel. One is the Modjeska toilet water and the other is the sachet powder.
They are among the many things that I wish I had asked her about when she gave them to me.  I image they are from the 30s or 40s although I'm not sure. They have been a cherished part of my vanity display for about 20 years, through several apartments and three house, but they look particularly good in my current 40s-inspired art deco bathroom.
Madame Helena Modjeska
I finally decided to try to learn a little bit more about these Larkin beauty products. While I wasn't able to find dates for my particular bottles, I did learn that John D. Larkin introduced the first Modjeska toilet soap in 1886. He was inspired by a performance of the Polish actress Madame Helena Modjeska, whose famous Shakespearean troupe visited Buffalo, NY in 1878. The toilet soap was later followed by Modjeska perfume, tooth powder and sachet. If you'd like to learn more about Helana, you can find her bio here: http://en.wikipedia.org/wiki/Helena_Modjeska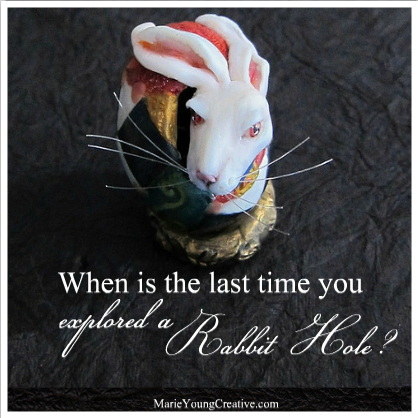 Down the rabbit hole
Playing it safe in life doesn't always lead to the most creative solutions.
When was the last time you explored a rabbit hole? After you finished falling, what new discoveries did the adventure bring to you?