One of my favorite things about this "Victorian Pumpkin" Halloween ornament is the incorporation of a old chain to hang it. Normally I use a spiral hook on my ornaments, but I wanted more weight. I also loved the antiqued copper color. It is polymer clay sculpted over a hollow egg shell and it is available for sale here: https://www.etsy.com/shop/YoungCreative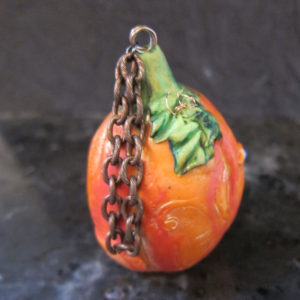 I love history and I'm a sucker for vintage, but anytime a company talks about being around for 100 years, they manage to make it seem stogy. Not so with Dodge. As Dodge turns 100, the company rolled out the Dodge/Born 1914 campaign which is features some commercials that bring out the fun in 100.
This one, the "Legend of the Dodge Brothers" reminds us that the past 100 years have been anything but dull and that the future looks even better.
Here's another one that shows us what we can learn from someone who is 100.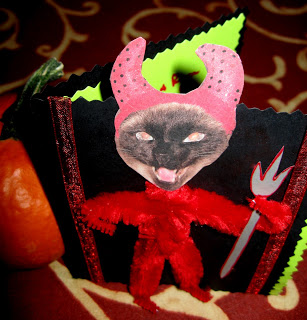 Happy Halloween Devil Cat Card
My talkative Siamese, Emily, takes center stage on this festive devil cat Halloween card that I made for my niece and nephew a few years ago. The chenille bump figure is super easy to make and very versatile. Wouldn't it look cute with a picture or your pet or even your child!
Step 1: Pick a photo. Print out a copy and glue it to a card stock backing in a complimentary color. Cut out the head.
Step 2: Create the body from chenille bumps. Cut a bump segment, fold it in half and twist the top together to form the torso.
Wrap a two-piece bump section around middle to form arms. Loop another two bump segment through the torso to form legs.
Step 3: Glue on the head.
You can make a devil, ghost, pumpkin, or whatever to can conjure up. The figures can be used to decorate all kinds of Halloween goodies. Imagine a whole bunch of them strung up on garland, or topping off cupcakes.
On a side note: Emily is really a sweetheart. She was just "talking" to me while I took her picture. There were no fangs involved.