It's the day after Christmas, or if you prefer, the start of the season of leftovers. Today my leftover-inspired lunch consisted of a toasted gluten free cranberry ham wrap livened up by a couple of spoonfuls of homemade (husband-made) cranberry sauce. The sweet cheese that you see oozing out of the edges is Giant Eagle Market District Jarlsberg spread. We've been eating it on crackers this week and there was just enough left to round out this wrap. I tucked the filling neatly inside my favorite brand of gluten free wraps, Rudi's Plain Tortillas, and toasted it to a light exterior crisp.
Gluten Free Cranberry and Ham Wrap Ingredients
Boar's Head Tavern Ham, sliced
Giant Eagle Martin District Jarlsberg Spread
Leftover cranberry sauce (homemade from fresh berries)
Rudi's Plain Tortilla
Something Blue
As I scooped the last bits of moisturizing cream out of the small blue glass jar, I heard a little voice in my head say "save me". Yes, blue glass talks to me, it always has.  I gently placed a fingernail under the label, just wrapped around, not glued or or imprinted. Score! An easy salvage.
The scale of the glass jar felt perfect for a votive candle. Timely,  considering the theme for January Challenge for the Polymer Clay Artists Guild of Etsy is "illuminated."
Birth of a Red Riding Hood Votive
The blue of the jar evoked a night sky. I covered the jar with a thin layer of translucent clay to maintain some of the color and cut some shapes into it to let bits of the vibrant blue show though. This gave me a pale, frosty palette against which to stage the story of the night that "Red meets Granny."
I always saw the wolf emerging from the top of the piece looking down, but I originally pictured the little girl farther away from him. As I began to shape the figures, I decided to move her closer, leaning in with complete trust, her face gently brushing  his.
Vote & Win
"Red meets Granny" votive candle holder is my entry in the January "Illuminated" Challenge. Voting will take place Jan. 1-7 on the PCAGOE site. You can vote for your top three favorite entries and be entered to win a prize from one of the sponsoring shops (including mine!)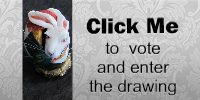 "
My husband and I enjoy torturing our cats by posing them for Christmas portraits. Sometimes we use the festive photos for our Christmas cards, but mostly we just want to extend the torture to our friends on Facebook who have to look at them.
It takes an incredible amount of patience to capture successful cat Christmas pictures. Below are my secrets to taking pet photos at the holidays.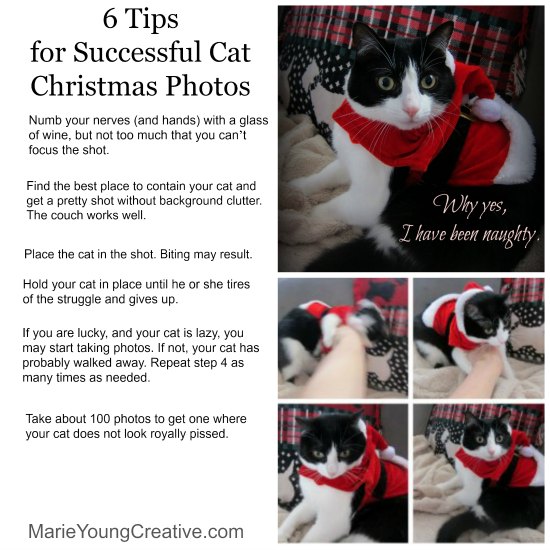 6 Tips to Successful Cat Christmas Photos
1. Numb your nerves (and hands) with a glass of wine, but not too much that you can't focus the shot.
2. Find the best way to try to contain your cat and get a pretty shot with out background clutter. The couch works well. This year, I used a Christmas rug on the back as a backdrop.
3. Place the cat in the shot. Biting may take place (as seen in the photo above).
4. Hold your cat in place until he or she tires of the struggle and gives up.
5. If you are lucky, and your cat is lazy, you may start taking photos. If not, your cat has probably walked away. Repeat step 4 as many times as needed.
6. Take about 100 photos to get one where your cat does not look royally pissed.
I would like to offer a special thank you to my cat Lucy (A.K.A. Lucifer) for helping me to illustrate this post.