Many years ago, in what seems like another lifetime, I was a young undergrad at Penn State taking one of my first art history classes. My favorite professor, Dr. Elizabeth Walters, had the gift of making the rituals of ancient people seem relevant to this Pennsylvania girl who came of age during the The Breakfast Club era of the late 1980s.
As I was working on a dancing fox sculpture this month, memories of her intro course on ancient Egyptian culture came flooding back. I could hear Dr. Walters describing the Egyptian "opening of the mouth" ceremony.  In this ceremony, a statue or mummy was given symbolic life through special tools that magically opened the mouth so that it could breathe and speak.
The memory made me laugh because, here I was, unwittingly conducting my own modern version of the "opening of the mouth" ceremony. There is a special moment when you are creating a figure when you feel "life" start to enter the piece. The eyes and mouth play critical roles in this magical process.
In the photo above, you can see my favorite ceremonial tool for opening the mouth. I don't use a peseshkaf or an adze, but rather a tiny crochet hook that my great-grandmother, Ethel, gave me when I was 7 or 8 so that I could make doilies with her. My doilies became skirts for my Barbie dolls. I haven't crocheted since she passed away. The lessons just didn't stick, but I cherish the tool.
I've been taking a break from creating things for my store to do whip up some Minnie Mouse cupcakes for my niece Chloe's 2nd birthday party.  Of course, I couldn't resist creating a polymer centerpiece to round out the display.
About the Cupcakes
For the vanilla lovers, I created "pink velvet" cupcakes by adding a small amount of red food coloring into the french vanilla cake mix. I iced them in a pure white vanilla icing and topped some with pink sugar, others with red.  For the chocolate lovers, I baked a batch of chocolate fudge cupcakes topped with the same white icing. These became "Minnie" with the addition of some mini Oreo ears and a red icing bow.
About the Centerpiece
The focal point of the cupcake display was a polymer Minnie keepsake that I created for Chloe's mom. I covered three hollow egg shells with polymer for the Minnie figure and the balloons. I anchored the whole thing in a recycled jelly jar lid filled with more polymer.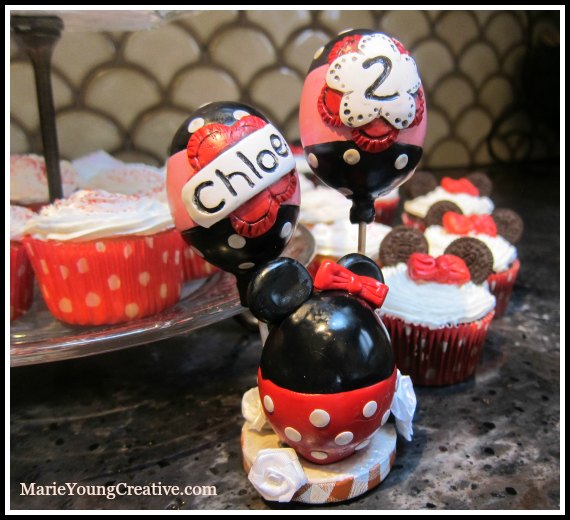 Looks like the new year is starting off with new challenges. The good kind, of course! The Polymer Clay Artists Guild of Etsy is kicking off the new year with our first challenge of 2015: Illuminated.
VOTE HERE: Voting is open today through Jan. 7 and everyone who votes is entered in a prize drawing so head over to http://polymerclayartists.blogspot.com/2014/12/january-challenge-illuminated.html and choose your favorite three entries.
There are some really clever takes on the theme with 10 entries in all. Many of the artists even let you see  the behind the scenes of their process on their blogs. I entered a small votive candle holder "Red Meets Granny which I shared with you here: http://marieyoungcreative.com/red-riding-hood-votive/
About the Polymer Clay Artists Guild of Etsy: PCAGOE is a global group of polymer artists united through Etsy, an online marketplace for handmade, supplies and vintage. About 100 members strong, we create amazing things using polymer clay, including jewelry, supplies, art, sculpture, functional art and home decor. We offer our customers excellent work and amazing diversity. All of our members strive to provide the highest level of customer service.