Eyes are the windows to the soul, yet how to create lifelike eyes is a struggle for artists, myself included. Deep soulful eyes, piercing demonic eyes, playful critter eyes…each creation calls for a different eye treatment.
To improve my eye-painting skills, I started to collect my favorite examples and tutorials on a Pinterest Board called "The Eyes Have It." Here you will find tutorials for realistic and fantasy eyes using in a variety of mediums including painting and drawing.
Tutorials to Create Lifelike Eyes
Follow Marie Young Creative's board The Eyes Have It on Pinterest.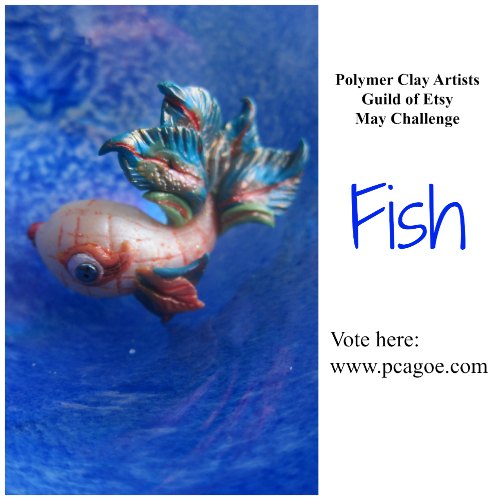 May Fish Challenge
It's fishy fun for my guild, the Polymer Clay Artists Guild of Etsy, this month for the May Challenge.
On March 18, I had emergency surgery that put me out of commission for about 4 weeks.  This little fishy is my first foray back into working with clay. It is about 2 inches long and is roughly based on techniques from Helen Breil's Shapes book. You can see the evolution of the project in the images below. The first is a sea creature that I created last year after I first bought the book. The second image shows the fish sketch that led to the piece that I entered in the challenge.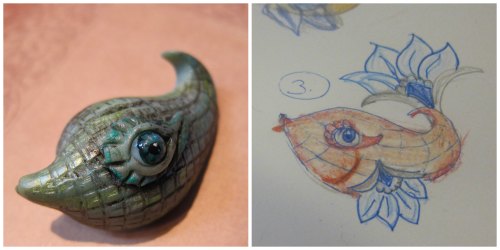 Vote in the Fish Challenge: Voting is open May. 1 through 7 and everyone who votes is entered in a prize drawing so head over to http://www.pcagoe.com and choose your favorite three entries. There are some really clever takes on the theme. Many of the artists even let you see  the behind the scenes of their process on their blogs.
About the Polymer Clay Artists Guild of Etsy: PCAGOE is a global group of polymer artists united through Etsy, an online marketplace for handmade, supplies and vintage. Members create amazing things using polymer clay, including jewelry, supplies, art, sculpture, functional art and home decor.