No beach house is complete without a whimsical one-of-a-kind cat mermaid ornament!
Maybe she's a "mer-cat" or maybe she's a "cat-fish," but this little glamour puss has big mermaid aspirations. She'd make a great gift for a water-loving cat parent or even a little luxury for yourself.
Making of a Cat Mermaid Ornament
I sculpted this sweet little orange kitty using a custom blend of translucent clay tinted with inks. She has a warm, waxy sheen that begs to be touched. She was created from my imagination so no mold exists. That makes her pretty special. I could make something similar, but never identical to her.
Fun cat fact: only about 20% of orange cats are females. My orange baby is a male with a sensitive soul named Henry.
Adopt this sweetie: https://www.etsy.com/listing/454539162/mermaid-cat-beach-ornament-whimsical-cat?ref=shop_home_active_4
Here are a few  "behind-the-scenes" photos of a Wonderland-themed shadow box project that is occupying me at the moment. I'll admit that right now Alice looks like something a serial killer left wedged in an oil drum, but hopefully some hair, clothes, and um–legs–will make her less creepy.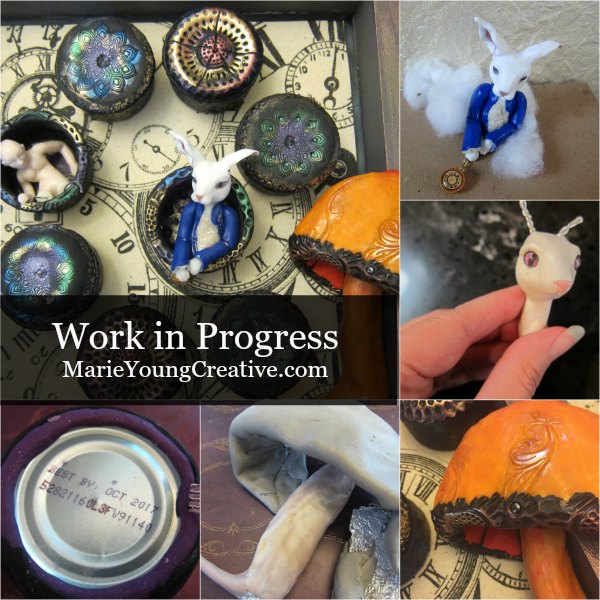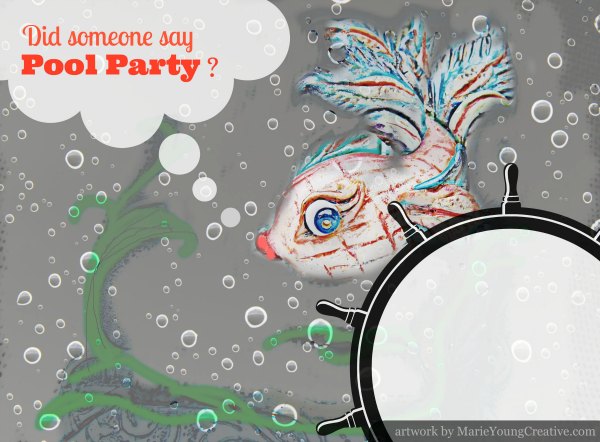 Free Pool Party Invitation Graphic
Here's a little gift for you: a free pool party invitation graphic that you can use to make your own pool party invitations this summer. You can incorporate this cheery little fishy into your own design for personal use. Open the free pool party invitation graphic file in your favorite photo editing program and add your party details in the blank space on the ship's wheel.  If you want to print your invites, you'll want to download the high-res file here: Free Pool Party Invitation Graphic Printable Version.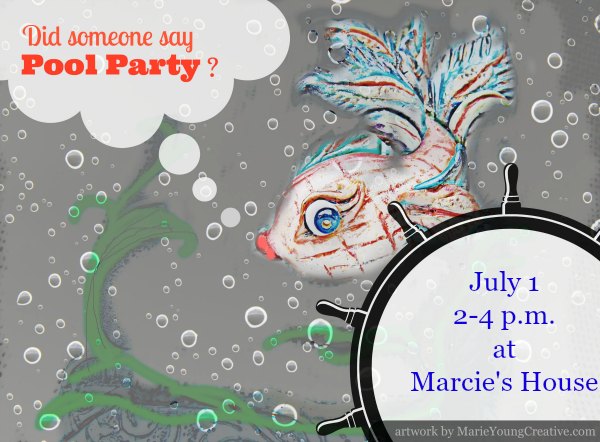 The artwork is a digital design based on a shadow box sculpture "Fintastic" that is currently available for purchase at Grin Gallery in Bedford, Pa. I created the little fish last year and I loved how he turned out, but I wasn't sure what to do with him. He sat "beached" in my workshop for the better part of a year before I figured out that he would look cute in a shadow box scene.  See the early stages here: http://marieyoungcreative.com/fish-challenge/