Black Cat Witch and Ghost Kitten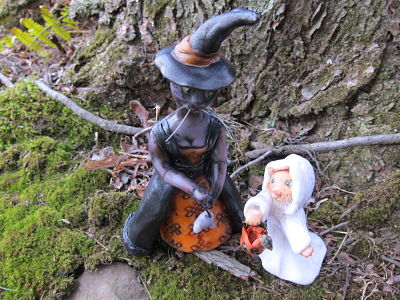 It is not often that I manage to work this far ahead of a season, but this was one of those projects that I had stuck in my head and I just had to get it out. It is made up of two pieces: a black cat witch handing over a tasty mouse "treat" to a precious little ghost kitten.
I thought it would make a nice entry in the Polymer Clay Artists Guild of Etsy monthly challenge because the theme is "Four Seasons-any or all." Of course, I choose to represent fall with this one.
Vote and Win
There are some really awesome entries this month. You really have to check them out. You can vote for your three favorites and be entered to win a mini-shopping spree from one of our sponsoring shops. Voting is open through midnight April 7 EST.
Vote here: http://polymerclayartists.blogspot.com/2013/03/april-challenge.html
Before and After
I thought you might enjoy seeing what this piece looked like in progress. This pic shows our newest addition, Henry, checking out some of the parts and pieces. It gives a nice idea of the scale.