Creating an giraffe ornament from a hollow egg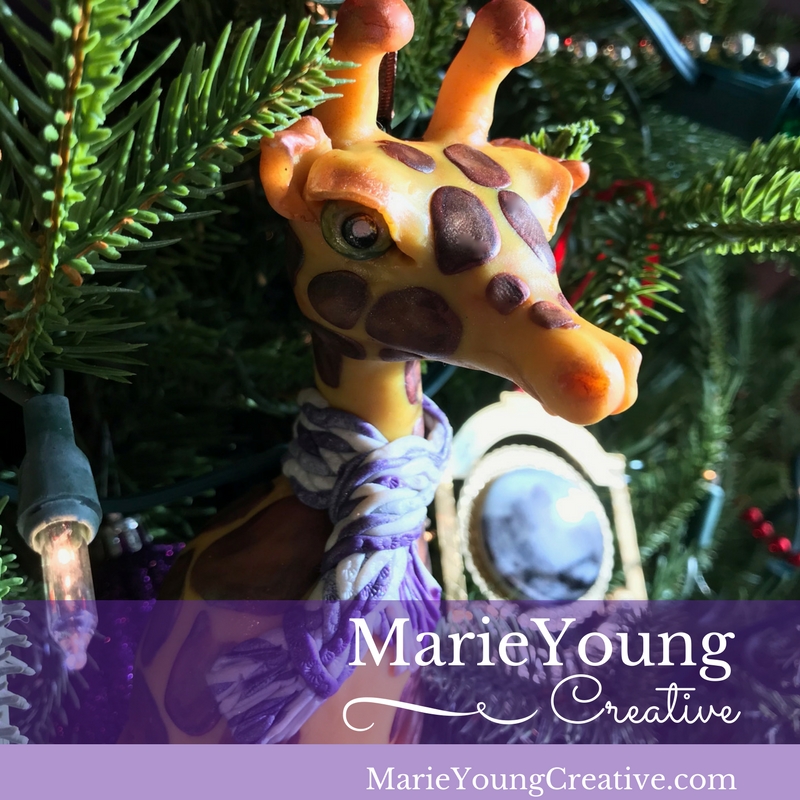 My friend Kristina asked me to create handcrafted Christmas ornaments for her children. She liked the ones I showed her where I turned hollow eggs into animal ornaments. As they rattled off a list of animals that they liked, "giraffe" piqued my interest. I had never tried sculpting a giraffe and the shape provided a particular challenge for an egg ornament.
From egg to giraffe
I started by covering the hollow egg with an yellow polymer clay base. Then I created an armature from aluminum foil for the head and neck. It started off looking more like a yellow squash but as I built up layers of polymer a sweet little giraffe slowly emerged.
A Pattern Emerges
The splotch pattern was pretty fun to create. I'm not a fan of painting my pieces because I like the satiny/waxy finish that unpainted clay gives me. So instead of paint I crafted a jelly roll cane of coppery brown clay to slice into the spots. I've been creating eyes in a similar way: cane slices rather than paint. I love the depth of expression. For the shading and accent colors, I brushed on some sparkly mica powder in rich copper tones. I selected a satiny brown ribbon for the perfect finishing touch.
Adopt your own
Adopt your own egg ornament in my MarieYoungCreative Etsy shop. If you have a particular idea in mind a can create a personalized ornament for you. They usually take 3-4 weeks to create and cost between $40-$60 depending on complexity. Ask me for a free quote.