This year, the Blair County Arts Festival in Altoona, Pa., celebrates 50 years of exploring the local arts on May 20-21.
The festival is held each year at the beautiful Penn State Altoona Campus and my husband and I enjoy taking in the food and craft vendors, musical arts and the juried art show.
Juried Art Show
50 years ago, the Blair County Arts Festival began as a Juried Art Exhibition at Penn State Altoona. This year, once again, the juried show  "celebrates the regions' finest artists as they exhibit their paintings, drawings, sculptures, photographs and mixed- media pieces. " Festival-goers can browse through three galleries of "thought-provoking, beautiful work."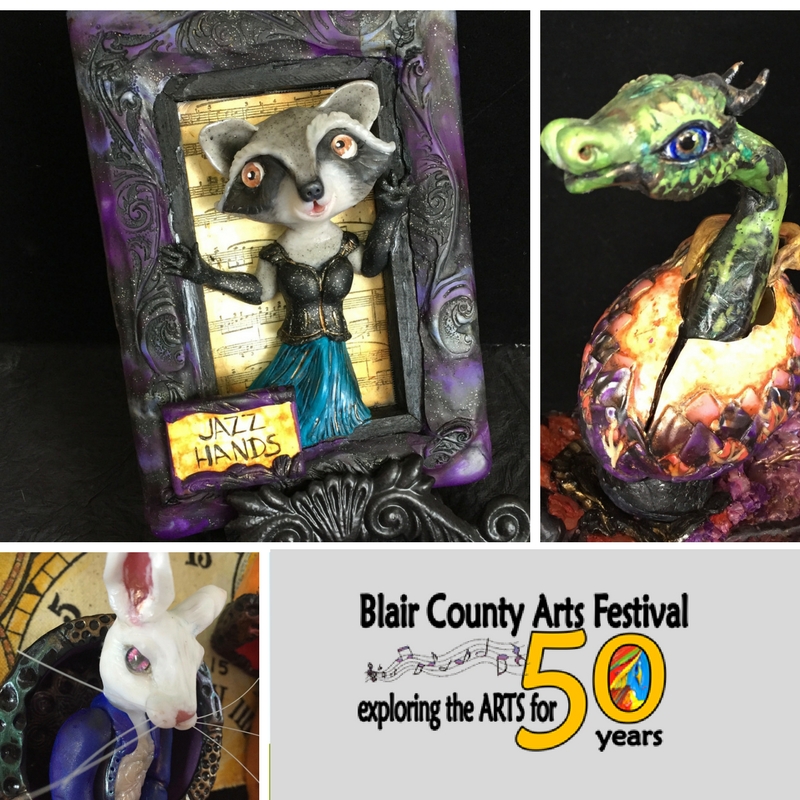 In March, I mailed in my entry to have three pieces considered to be part of the juried show. I've never entered a juried show so I considered it a "stretch exercise." In April, I received my self-addressed envelop back  in the mail with the results. My heart surged, until I remembered that I'd hear from the committee either way.
I cautiously opened the envelop and pulled out the results sheet:
"Freedom"
"Jazz Hands
"Time in Wonderland"
All  three pieces were accepted into the show!!! Next weekend we deliver them to the Penn State Altoona's Misciagna Center so they will be ready for exhibition when the festival opens.
About The Blair County Arts Festival
Celebrate 50 years of exploring the arts at the Blair County Arts Festival on May 20 and 21, 2017. The anniversary celebration includes art, music, dance, exhibits, children's activities, crafts, and food. Parking is $5 per car, but the event is free. All proceeds benefit the Historic Mishler Theatre in downtown Altoona.
Visit http://blaircountyartsfestival.org/ for details