Decorating with eggs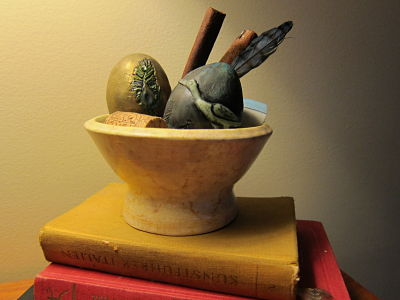 Everyone is busy creating Easter-themed eggs right now, but while you have the blown-out egg shells handy, why not create a few that you can enjoy all year?
I covered these ones with polymer clay in colors that matched my living room. The bowl is one of my only experiments with a pottery wheel–25 years ago in my high school art class!
It is actually a "mistake." We were making round bowls and I held my hands in one place too long and it created a pedestal foot on the base. The teacher wasn't impressed, but I've displayed it proudly in three apartments and three houses.