Decisions in the Garden of Good & Evil
Inner Struggles
Cats are great subject matter for me, especially my baby tuxedo Lucy (A.K.A. Lucifer). Baby Lu, as my husband affectionately refers to her, struggles with whether to listen to her inner angel or her inner devil. She's earned the nickname "Lucifer" from me because too often, her inner devil wins.
About "Decisions in the Garden of Good and Evil":
I started this sculpture based on Lucy's inner struggle a while back, but it had been sitting in my workshop unfinished. When I saw that my polymer clay guild was having a challenge with the theme of "mandalas" it gave me an idea for the base. (Voting is under way here: PCAGOE Mandala Challenge) Lucy sits a top the mandala which has a lotus flower at the center. In her hand, she hold the forbidden apple while a little angel and a devil mouse whisper into her ear. She's leaning toward the angel mouse, but if I know Lucy, Lucifer may gain ground.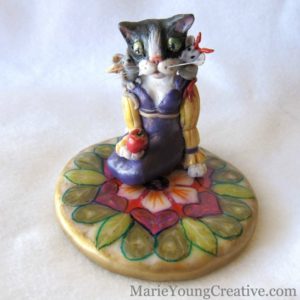 About the model
Lucy was only 4-weeks old when I rescued her several years ago after her mom abandoned her. She is still an adorable little runt, but her inner devil flares easily. If her eyes start to go black, watch out!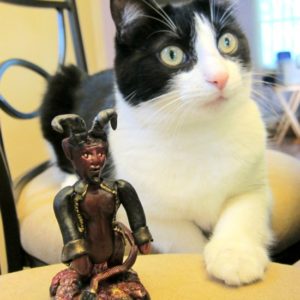 Go vote
Did you vote yet? Head over to the Polymer Clay Artists Guild of Etsy Challenge to see some great mandala interpretations! http://polymerclayartists.blogspot.com/2014/10/november-challenge-mandalas.html