Mosaic Artist Margaret Almon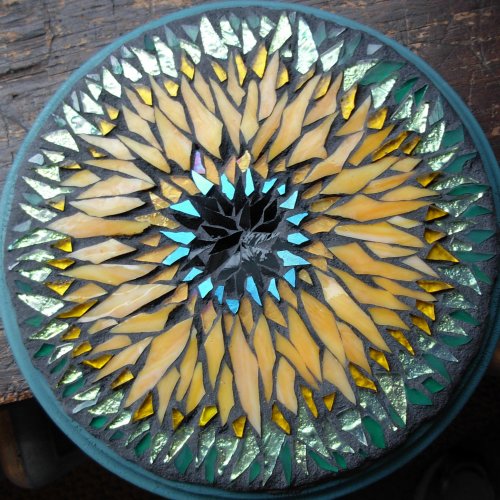 Margaret Almon is a Pennsylvania artist who creates gorgeous mosaics that are filled with life. I've followed her blog, Margaret Almon Mosaics, for quite a while.
I particularly love seeing her posts on Pennsylvania art, sites, and finds. When I find myself going down a negative path, she reminds me that I live in a state that is filled with beauty and possibilities.
This month, the challenge theme for our Polymer Clay Artists Guild of Etsy is "mosaics." Of course we'll be using polymer, which is much easier to cut that glass, but alas it will never have the sparkle that you find in Margaret's work.
So with less than a month to go to challenge time, I tried my hand today at a small tear-drop shaped mosaic that would form the belly on a bird created over a chicken egg shell.  I was in awe of Margaret's work before I started on my own mosaic, but I am even more impressed with the skills and creativity she brings to the table. Creating color transitions and a sense of movement through small pieces that feel cohesive is extremely challenging.
Apparently my cat, Benjamin, thought my work could use a "do over", so he swatted the egg bird with the mosaic belly onto the floor and shattered it. I can't say that I disagree with his assessment of my first stab. Back to the drawing board.
Bottom line, there are no mosaics worth seeing in my portfolio, so please visit Margaret's site to see some wonderful pieces. http://www.margaretalmon.com/