Monkey Astronaut Glory Days
The Making of a Monkey Astronaut
This monkey astronaut's shuttle pod is actually a small brown chicken egg. Hollow eggs make awesome frames for creative critter ornaments. The photo below shows an "in progress" shot of the monkey's head as well as some additional views.
The idea for this piece came from the theme for the June Challenge held by the Polymer Clay Artists Guild of Etsy: Retro. I was trying to think of what I wanted to enter when the latest issue of Smithsonian magazine arrived in our mail. The cover featured a cute retro spaceman toy and somehow that translated to monkey astronaut in my head.
You can purchase him here: Glory Days Monkey Astronaut Ornament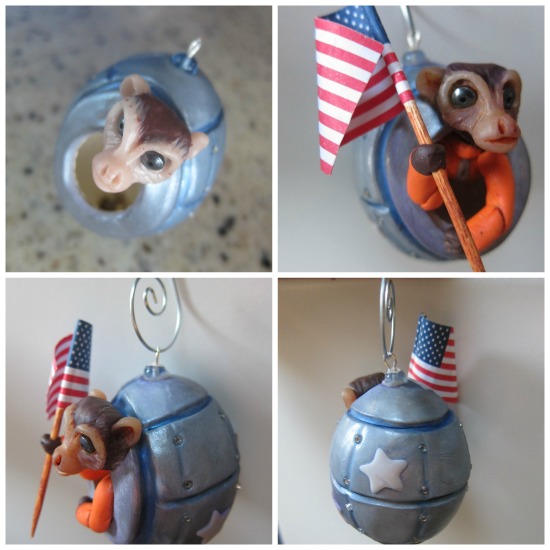 Vote in the Retro Challenge: Voting is open June 1 through 7 and everyone who votes is entered in a prize drawing so head over to http://www.pcagoe.com and choose your favorite three entries. There are some really clever takes on the theme. Many of the artists even let you see  the behind the scenes of their process on their blogs.
About the Polymer Clay Artists Guild of Etsy: PCAGOE is a global group of polymer artists united through Etsy, an online marketplace for handmade, supplies and vintage. Members create amazing things using polymer clay, including jewelry, supplies, art, sculpture, functional art and home decor.