Peacock "Crazy Quilt" Mosaic Switchplate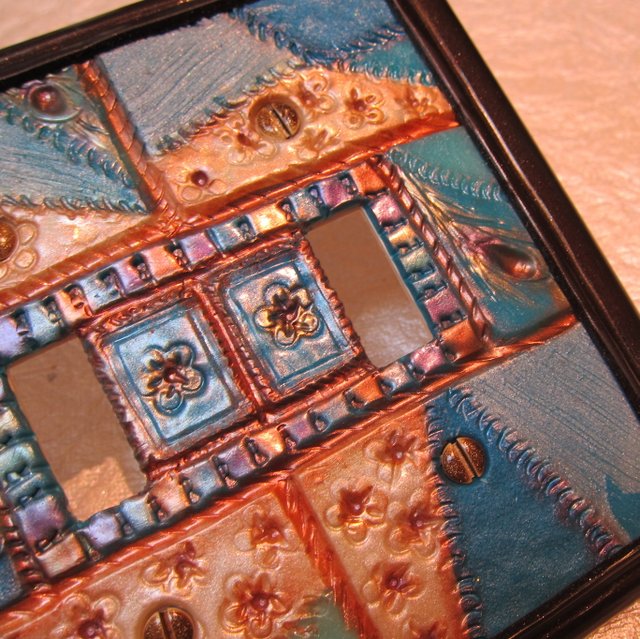 In a period of procrastination, I stumbled upon a Pinterest board of vintage quilt samples. I haven't quilted in years, yet I couldn't help but be drawn to the possibilities in these incredible samples. To be fair I didn't see quilt possibilities—I saw possibilities in polymer. More specifically, I saw polymer mosaics.
I'd had "mosaics on the brain" for a couple of months because that is the one of the themes in the Polymer Artists Guild of Etsy monthly challenge. I thought it would be a relatively easy theme to generate ideas around, yet it was proving to be much harder than I had thought. I had sketched some strict (i.e. boring) geometric patterns on a sheet of graph paper, but the ideas never seemed to be worth progressing from paper to polymer.
The Eureka moment didn't hit me until I saw those quilt samples. Looking at the images took me back to the fourth grade, learning to quilt with my Great-grandma. Her wrinkly plump fingers were surprisingly nimble. They were steady too as she held my shaky hand in hers, guiding the needle to create the perfectly spaced, decorative stitches that held together the fabric and batting layers of a quilt.
I had an aptitude for the detail work of hand-stitching, but in terms of designing the patterns, my quilts were more of a hodge-podge. They were either random bits of mis-matched fabric that never really came together as a whole, or, they were far too rigid of a geometric pattern.
 Now, all these years later, looking at the Pinterest quilt samples, I see what I couldn't see then.
Chaos needs order: Random pieces have to be framed by design principles and color theory to work as a whole.
Order needs chaos: Things that are too "perfect" can be dull. Life likes surprises.
The image that served as my challenge inspiration was a "crazy quilt" pattern. It had just the right amount of random energy in the shapes, tempered by a cohesive color scheme and grid overlay of trims that tied everything together.
I grabbed my graph paper and divided it into four quadrants. In each of the four quadrants, I started to add pieces of blue and yellow clay in a semi-random, "crazy quilt" configuration.
But something didn't "feel" right. I crinkled up my nose and stared at the piece through squinted eyes, secretly hoping to see past whatever flaw I thought I saw. But it was no use. Squinting doesn't erase design flaws.
In this case, even though the color scheme was coherent, and I had created some strong design lines within the piece, the overall effect felt scattered. Since some of the sections felt good to me, I decided to cut apart the quadrants and reassemble them around a very deliberate geometric mosaic. Surprisingly, the addition of more structure actually created a better sense of movement.
The next design hurdle I had to overcome was with the color. I choose a mix of dark and light blues in opaque and translucent clay that I contrasted with a light yellow. I was going for a vintage 1930s color palette. Good in theory, but in reality it shouted "baby." And even though I had varied the colors, the overall tone was monotonous.. Thank God for mica powder! I went back in and added shading in blue, purple, green, and copper. Now I had foreground, middle-ground, and background colors.
Last but not least, I added some texture. I'm a sculptor at heart so I always have an urge to contort the clay, even on something flat like a switch plate. I did a little stippling texture, some cross-hatching, and then I added "stitches" to try to get the feel of different weights of fabric coming together.
Vote and win
The finished piece is my entry in the May "Mosaics" Challenge of the Polymer Clay Artists Guild of Etsy. Voting is open through May 7. Select your favorites and you could be entered to win a prize from one of the sponsoring artists (including me!) Go here to vote:
http://polymerclayartists.blogspot.com/2013/04/may-challenge-mosaics.html
Want to own it?
This switch plate is listing in my Etsy store: https://www.etsy.com/shop/YoungCreative