Pullet Egg Art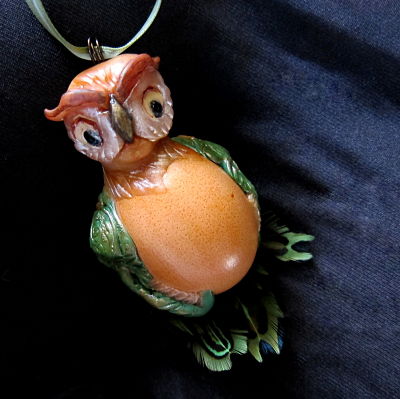 Growing up next door to my grandparent's farm, I'm very familiar with the benefits of fresh chicken eggs, but I have to admit, I never noticed pullet eggs. These are smaller than average eggs from young hens who are just beginning their egg laying career.
I discovered this rare find from a colleague Tim Whisler, who runs a small family farm when he isn't moonlighting as a college dean and history professor.
As with most things for me, I was more interested in the artistic application than the culinary ones. Pullet eggs are damn cute! I purchased some of these "first lays" to create ornaments. Of course I had the added benefit of being able to eat the eggs.
It is a fleeting find, however, because the hens are already mastering their craft and the eggs are getting larger. Still, the shells are wonderfully hard, a trait you don't find in the typical grocery store egg.
Here is one of the first creations. He's available in my Young Creative Etsy store.