Sweet Potato Fry Frittata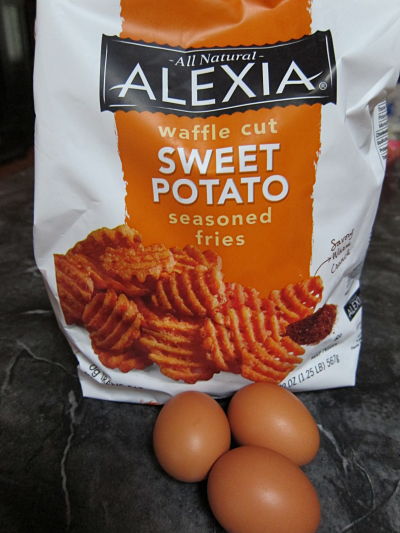 Today was one of those emotionally draining days. I came home, climbed in my robe, and collapsed on the couch.
It was almost a "cereal for dinner" kinda night, but I decided to make one of our frequent comfort food dishes: Sweet Potato Fry Frittata. Making it commits few brain cells, yet it fools my stomach into thinking I really cared about its needs.
Here's how it is done:
You bake the sweet potato waffle fries according to the package directions. As the fries near completion, you scramble a few eggs along with whatever you decide to throw in the pan. Tonight it was leftover breakfast sausage and a few fresh mushrooms. When the fries are crispy, you place the cooked eggs over them, throw on some shredded cheddar cheese and put everything back into the oven long enough for the cheese to melt.
No Martha wouldn't approve, but we can't all be Martha.