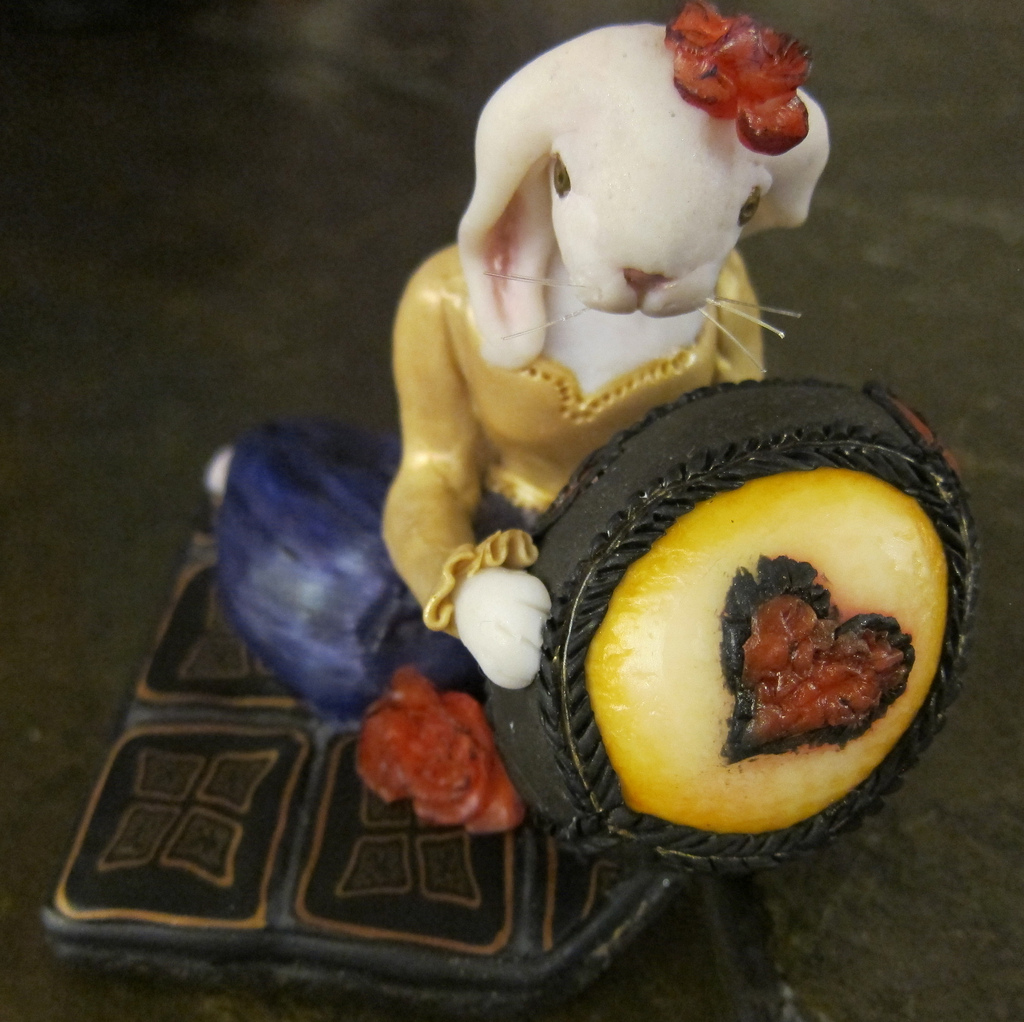 My 10,000 hour journey
"Amelia, the Princess Rabbit"  is part of my 10,000 hour journey. That's the number that Malcolm Gladwell shared in Outliers as the time that is takes to master a skill.  For every hour that I spend with my sculptures, I gain new abilities to bring the vision that rests in my head to my hands.
I have found many great resources to help me on my journey and one I am very appreciate of at the moment is Christine DuMont's course "Ways to Wow" on Voila. It is 6-month exploration of emotion in art that has really helped my think about technique, flow, color, and proportion in my work.
The curse of  of this journey is that as I get better, I am never happy with anything I have done before. Amelia is a great example. She is actually a do-over of "Crimson." And "Crimson was a do-over of my fantasy vampire rabbit sculpture.
Voting is Open
Polymer Clay Artists Guild of Etsy September Challenge
The theme for my guild's challenge this month is "Inspired by a Story or Book." Amelia really fit the bill so I selected this work as my entry. Public voting is open from September 1-7 and would love for you to take a look at the wonderfully creative entries.
Vote for your favorite three entries at www.pcagoe.com and you will be entered to win a gift certificate from one of the sponsor shops (including mine: Young Creative on Etsy).
The Evolution of  Rabbit Sculpture
x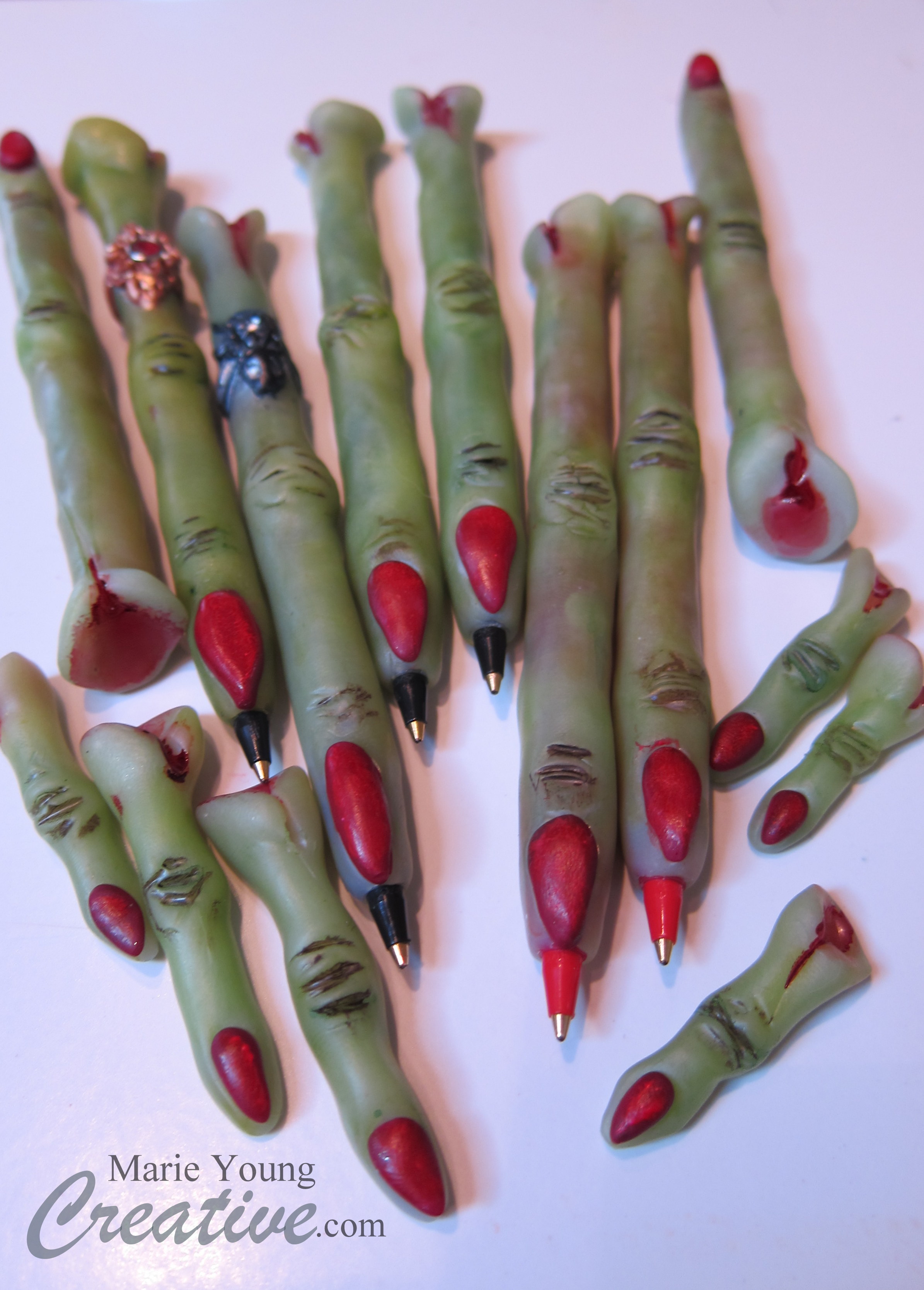 The Halloween countdown has begun!
today's project witch fingers:
add antiquing to fingers – check!
add earring and necklace findings to small ones – in progress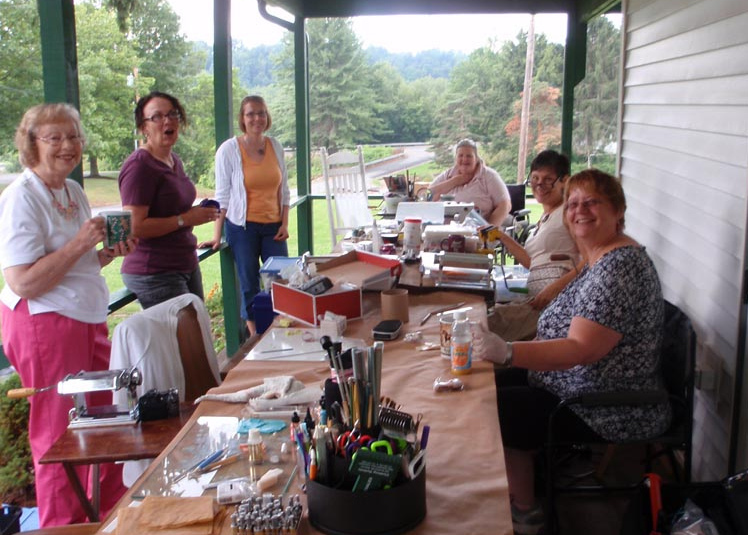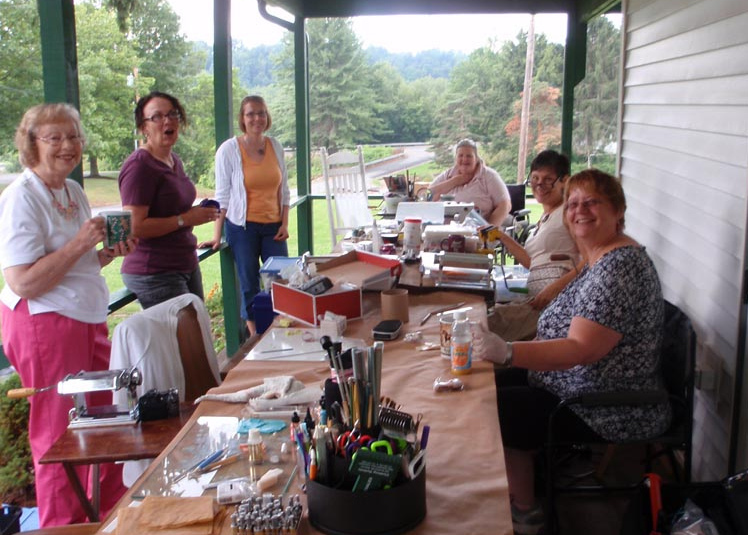 When you are a kid, learning is kind of a one-way street. Someone teaches you something you don't know and you learn it. A cool shift happens when you grow up; the street becomes a two-lane freeway where sometimes you share your gifts and sometimes you sit back and absorb the gifts of others.
This past weekend I had the chance to do a little of both at the Polymer Clay Artists Guild of Etsy's first-ever northeast U.S. retreat.
Cindy Matthews of Arrowdale Art Studio opened up her home outside Williamsport to a group of online guild members whom she'd never met in person. How generous! Since it was only a couple of hours away from me, I knew I couldn't miss it.
You are doing what on your vacation?
Sure people look at you a little weird when you take vacation time to play with polymer, but it was so worth it!I spent the beginning of my week finishing up my "twinchies"– the 2 by 2 inch polymer tiles that we planned to exchange with each other. People chose something that represented their hometown or their personal style.
On Friday, I headed to Williamsport to formally meet people that I had been chatting with online for several years now. That's a surreal experience! People sort of looked like their 2-dimensional photos, but now they have voices and accents!
In between gabbing with friends and filling up on favorite recipes, we managed to get a little contact time with our medium. That's where the two-way learning street comes into this story.
The 3-day retreat started out with a "show and tell" that was better than anything from elementary school. I was able to reach out and touch so many of those works that I had drooled over online. Then on Saturday we moved into demos. I'll share some demo pics later.
Each of us had an opportunity to share and to learn all in one well-rounded weekend. Good stuff!
Have any of you been to an artist retreat that recharged your batteries? Are there any must attend events that you recommend?