Art Deco Cigarette Girl
Art Deco Cigarette Girl
"Emily, the Art Deco Cigarette Girl" sculpture is one of those ideas that I had in my head for a couple of years before I felt ready to create it. It is modeled after my Siamese cat Emily.
"Emily" (the sculpture-not my cat) is available for purchase here: https://www.etsy.com/listing/183561660/art-deco-cigarette-girl-siamese-cat-art?ref=shop_home_feat_3
About the model:
We adopted Emily when her previous pet mother passed away. Most of the time she is a timid girl, but when she feels confident, she prances around, strikes elegant poses, and will talk your ears off. She is one elegant cat especially with her sleek black "gloved" front paws.
Art Deco Influences:
Weird as it may sound, sometimes when I looked at Emily, with her slinky feminism,  I saw a 1930s-style Art Deco cigarette girl. I decided to sculpt this sweet anthropomorphic cat art doll based on that crazy picture in my head.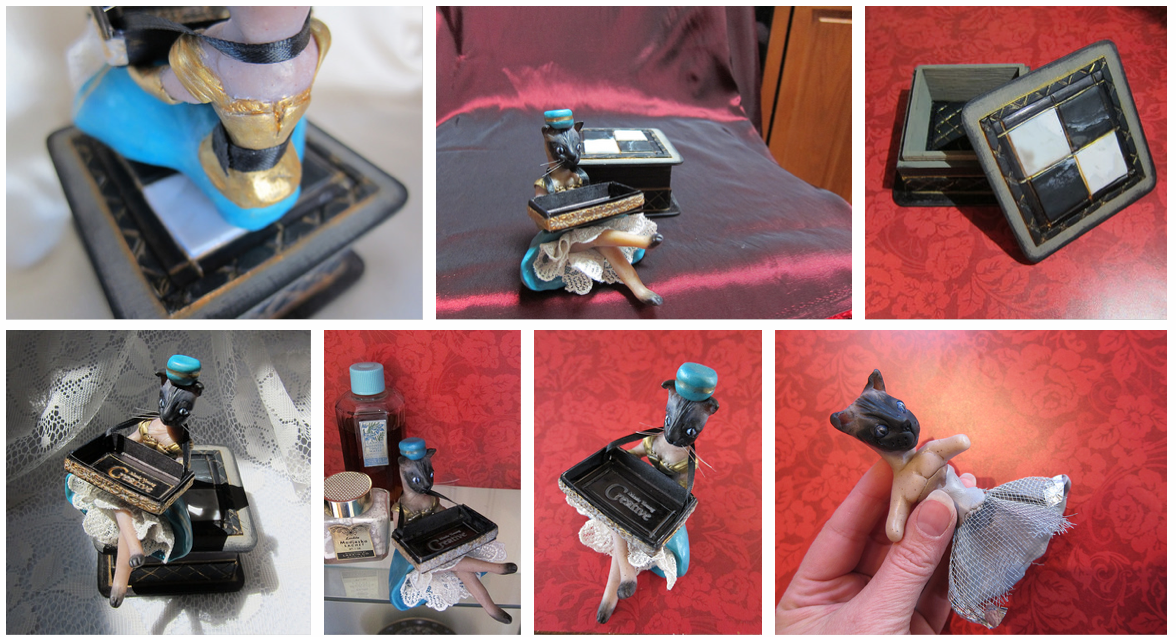 She is mainly sculpted from polymer clay. For her body, I started with my favorite blend: Premo translucent clay mixed with dried cinnamon and alcohol ink. The translucent clay gives my work a soft waxy sheen. I attached the torso to a wire frame and sculpted the skirt over that.  I also add metallic paint finishes to amp up the glam.
Mixed Media Elements
To add some softness, I tucked in a little lace trim to peek out from underneath her skirt.  The tray that she is holding is a small matchbox that I painted and decorated with polymer accents. My "Marie Young Creative" maker's signature mark is stamped inside. Clever, huh?
This sophisticated kitty is sitting on a separate black jewelry box made from wood accented with a polymer black and white tiles on the lid and diamond pattern edging on the sides. You can display the two pieces together or separately.
Polymer Clay Guild Challenge Entry
I'm going to enter "Emily" in the June PCAGOE challenge: "Art Deco/Art Nouveau." Public voting will be open between June 1-7 at www.pcagoe.com.