"Burst Bubble" Bubble Tea Pinterest Fail
Within an hour of sampling my first bubble tea on a weekend trip to Georgetown, I jumped on my iPhone and started to search recipes so that I could replicate it when we got back home to Pennsylvania. I spent the next week "pinning" perfectly photographed tapioca-filled teas that linked to pages with the promise of easy DIY recipes that I couldn't wait to try.
I 'd love to tell you about how I made the MOST DELIGHTFUL BUBBLE TEA YOU'LL EVER TRY, but like most of you, I don't live in a fairy tale world where everything works out. No magic wand for this one.
After a total strike-out trying to find ingredients locally, my husband, Rob, went online and ordered some black pearl tapioca and more jumbo straws than two humans could possibly use in one lifetime. Ready, set, tea time, right?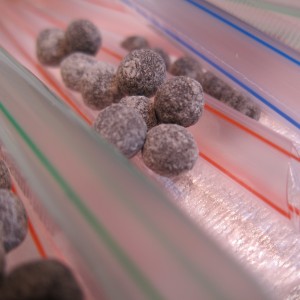 Easy Bubble Tea Recipe 🙂
The recipe I chose had four ingredients: black tea, milk, sugar, tapioca pearls, and ice. The tapioca pearls went into the sauce pot with some water. So far, so good. In the meantime, I brewed some black tea and waited for the pearls to get gummy.
After running the cooked pearls under cold water to chill them, I grabbed a handful to place in the glass. To say they were "sticky" would be an understatement. I tried flinging them off my fingers with the same idiotic motion that a 3-year old uses to flick off a booger. That didn't release their hold, so I pulled a spoon out of the drawer and pried then off, ONE–by–ONE. Okay, hands free. Now to get the two cups of ice from the ice maker–the ice maker that is always overflowing with ice–EXCEPT FOR THIS NIGHT! I pressed the lever, and out popped two cubes. Two lousy cubes. Somehow the water line had become clogged, and unbeknownst to us, the ice maker had stopped making ice.
At this point in the EASY recipe, I had a two glasses of tapioca snot balls, some brewed tea, and the utmost determination that we would be drinking bubble tea by night's end. Scanning the freezer for ice substitutions, I hovered between a bag of frozen peas and some whipped topping.  Whipped topping won out. I threw it into the blender with the tea and hit "frappe." This is what "creative" types call improvising. I poured the foamy tea mixture over the pearls. It tasted weirdly interesting, but it still needed something. Cinnamon Fireball Whiskey. Yes, that is what it was missing.
Am I going to write the Fireball people and share the recipe? I don't think so. This probably wasn't the best use of their product, but it did make a failed recipe a little better. Of course, I did update my Facebook status with a tea-teaser pic. Who could blame me? I'm sitting home on a Friday night making bubble tea. I have to glam it up because reality isn't always pretty.