Devil Cat Halloween Card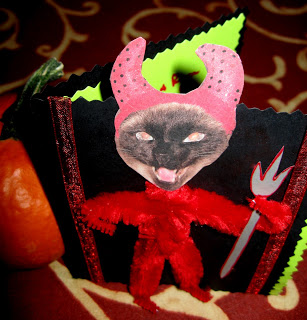 Happy Halloween Devil Cat Card
My talkative Siamese, Emily, takes center stage on this festive devil cat Halloween card that I made for my niece and nephew a few years ago. The chenille bump figure is super easy to make and very versatile. Wouldn't it look cute with a picture or your pet or even your child!
Step 1: Pick a photo. Print out a copy and glue it to a card stock backing in a complimentary color. Cut out the head.
Step 2: Create the body from chenille bumps. Cut a bump segment, fold it in half and twist the top together to form the torso.
Wrap a two-piece bump section around middle to form arms. Loop another two bump segment through the torso to form legs.
Step 3: Glue on the head.
You can make a devil, ghost, pumpkin, or whatever to can conjure up. The figures can be used to decorate all kinds of Halloween goodies. Imagine a whole bunch of them strung up on garland, or topping off cupcakes.
On a side note: Emily is really a sweetheart. She was just "talking" to me while I took her picture. There were no fangs involved.