Holiday stress killing you?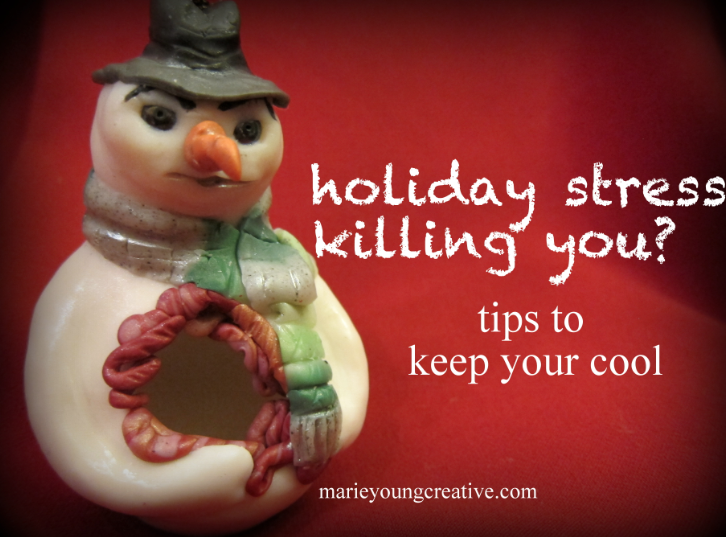 In the spirit of the season, I offer you three quick tips to keep holiday stress from tearing a hole in your gut. Obviously eating right and exercising would round out this list out to five, but let's be real. It's the holidays!
1. Snort your way to happiness.

It is no secret that smells can boost your spirits. In addition to the traditional ways of introducing comforting smells like scented candles, pick up a few small bottles of essential oils. My favorite mood-boosting oils include lemon and peppermint. I sprinkle a few drops of each in my shower every morning and sniff in the good vibes.

2. Find a "happy place" OFFLINE.

When I'm stressed, I tend to escape to the web, but that type of procrastination can make stress even worse. Instead of going to Facebook when you find yourself in need of a break, set up an offline happy place. Maybe its a comfy chair where you look outside for a five minutes while you drink a glass of warm milk. The goal is to slow down your over-stimulated mind, even if it is only for a few moments.

3. Get a sense of humor.

Find one funny decoration that makes you laugh. It doesn't have to match your style. You can 'display" it somewhere hidden that you access every day, such as the cabinet where your store your coffee mugs. The idea is to bring you a daily reminder that the holidays are meant to be joyful.
Shameless promotional plug: The zombie snowman I used to illustrate this post is available for sale: https://www.etsy.com/listing/169649074/zombie-snowman-creepmas-ornament?ref=shop_home_active