Red Riding Hood Votive
Something Blue
As I scooped the last bits of moisturizing cream out of the small blue glass jar, I heard a little voice in my head say "save me". Yes, blue glass talks to me, it always has.  I gently placed a fingernail under the label, just wrapped around, not glued or or imprinted. Score! An easy salvage.
The scale of the glass jar felt perfect for a votive candle. Timely,  considering the theme for January Challenge for the Polymer Clay Artists Guild of Etsy is "illuminated."
Birth of a Red Riding Hood Votive
The blue of the jar evoked a night sky. I covered the jar with a thin layer of translucent clay to maintain some of the color and cut some shapes into it to let bits of the vibrant blue show though. This gave me a pale, frosty palette against which to stage the story of the night that "Red meets Granny."
I always saw the wolf emerging from the top of the piece looking down, but I originally pictured the little girl farther away from him. As I began to shape the figures, I decided to move her closer, leaning in with complete trust, her face gently brushing  his.
Vote & Win
"Red meets Granny" votive candle holder is my entry in the January "Illuminated" Challenge. Voting will take place Jan. 1-7 on the PCAGOE site. You can vote for your top three favorite entries and be entered to win a prize from one of the sponsoring shops (including mine!)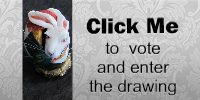 "