Successful Cat Christmas Pictures
My husband and I enjoy torturing our cats by posing them for Christmas portraits. Sometimes we use the festive photos for our Christmas cards, but mostly we just want to extend the torture to our friends on Facebook who have to look at them.
It takes an incredible amount of patience to capture successful cat Christmas pictures. Below are my secrets to taking pet photos at the holidays.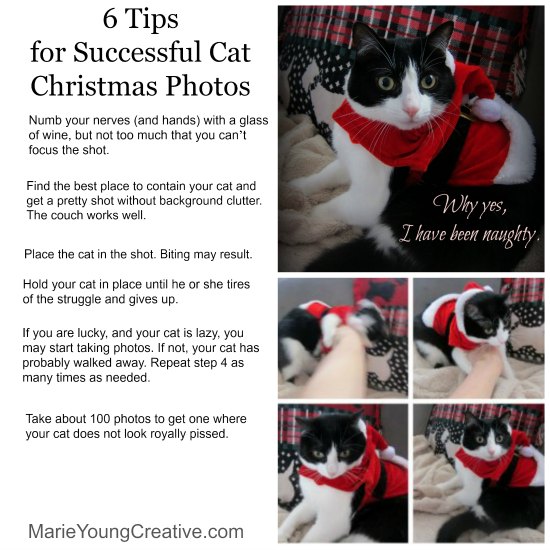 6 Tips to Successful Cat Christmas Photos
1. Numb your nerves (and hands) with a glass of wine, but not too much that you can't focus the shot.
2. Find the best way to try to contain your cat and get a pretty shot with out background clutter. The couch works well. This year, I used a Christmas rug on the back as a backdrop.
3. Place the cat in the shot. Biting may take place (as seen in the photo above).
4. Hold your cat in place until he or she tires of the struggle and gives up.
5. If you are lucky, and your cat is lazy, you may start taking photos. If not, your cat has probably walked away. Repeat step 4 as many times as needed.
6. Take about 100 photos to get one where your cat does not look royally pissed.
I would like to offer a special thank you to my cat Lucy (A.K.A. Lucifer) for helping me to illustrate this post.