Red's Walk Fantasy Art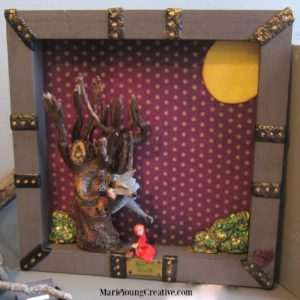 Meet Red. She went for a walk on a moonlit night. That probably wasn't the best idea, but I'll let you, the viewer, write your own ending. Did she escape? Was she eaten? Did she fall madly in love with the wolf. All things are possible in the realm of fantasy.
Red on Display in Bedford, Pa.
Red's Walk is a 15 x 15 inch shadow box polymer clay fantasy art scene that I created for my first solo show, Curiosities at Grin Gallery which opens TODAY!
Red Riding Hood is just one of the themes I display here. You can cast your eyes upon all kinds of fanciful creatures and puckish oddities during this month-long exhibit of Halloween and fantasy-themed sculptures and wall art at Grin Gallery.
Artist's Reception: On Oct. 29 I'll be there to host a meet and greet from 4 to 7 p.m.  Enjoy light refreshments (wine, hors d'oeuvres and such) and have a chance to win one of my creations.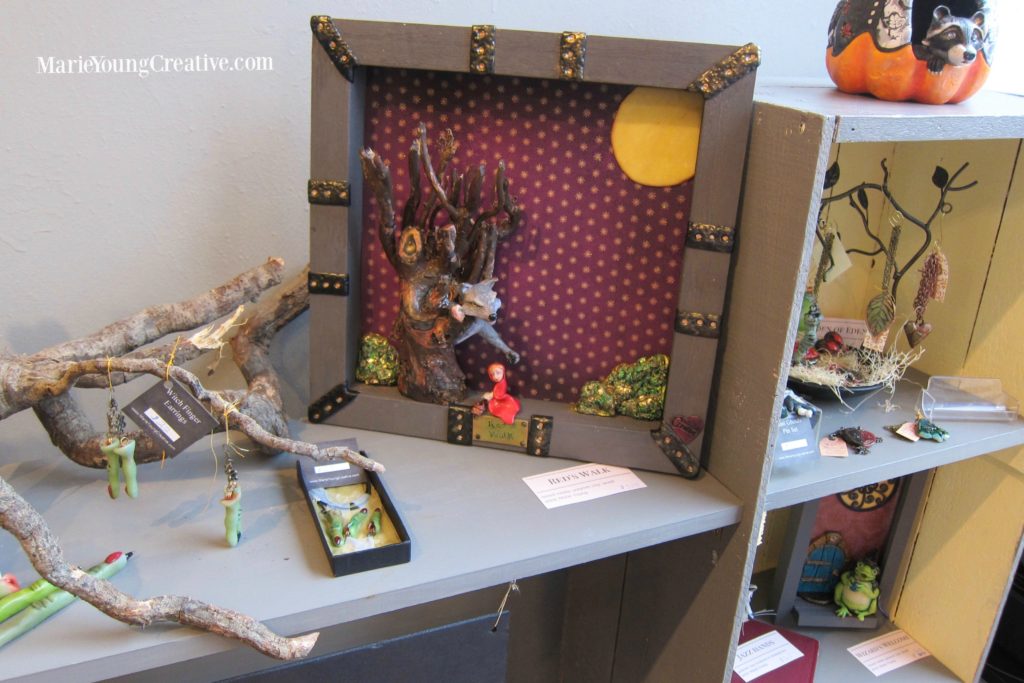 Facebook Showcase
October just happens to also be the launch of the Polymer Clay Artist Guild of Etsy's first-ever Facebook Showcase. And guess what the theme is— Wonderfully Weird and Creepy!  So for the month of October, the members will be posting pieces that they created in that theme and showing you behind the scenes of their creative process. Some of the works are for sale just in time for Halloween!
You'll get a chance to know Red better this month as she makes some appearances in the showcase.